Our Parish Life Center, located one block from the church at 4690 Bald Eagle Avenue, is available for use by members of the parish and White Bear Lake community organizations. The Parish Life Center can be rented for wedding receptions, banquets, parties, and meetings. Facilities include a state-of-the-art kitchen, community room, classroom facilities, and gymnasium.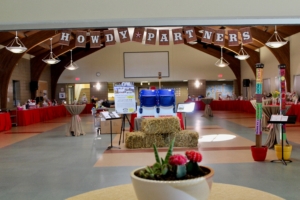 Kohler Hall, our events area, seats 200-300 people. Other rooms are available for rent to hold smaller groups. Limited space is also available in our church building.
Rental fees include tables, chairs, kitchen equipment, staging, and sound equipment. In addition to rental fees, a $150 refundable damage deposit fee is required.
Event insurance – either through personal homeowners' insurance or through the purchase of an event policy through the Archdiocese of St. Paul-Minneapolis – is required for all activities.
St. Mary of the Lake parishioners receive a 20 percent discount on facility rental fees. All other deposits and fees apply.
Please call the Parish office at 651-429-7771 option 1 or Contact Us for more information.