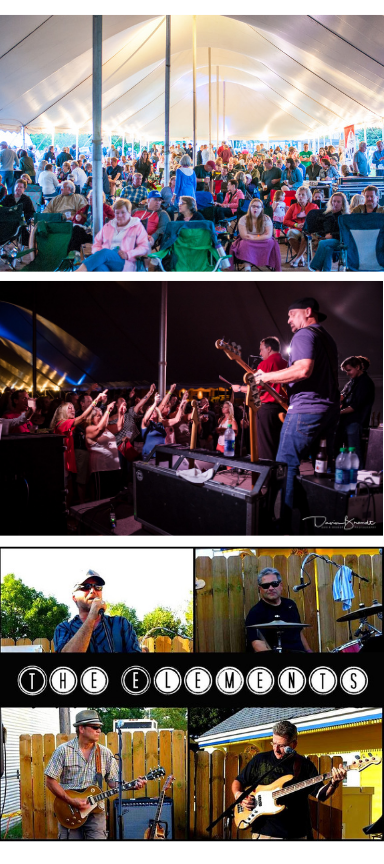 SummerFest is a community outdoor concert event celebrating 10 years of outdoor music to the White Bear Lake Community. We have two great acts under the big top this year.  The Elements will start things off at 6:00 PM followed up by the acclaimed, The Good the Bad and the Funky.
"The Good, The Bad and the Funky play, Rock and Roll, Blues, and Funk. They have a 10-person band with a large section of horns. The band has a sound of their own and put a funk twist to well-known songs from the past, mesmerizing the crowds into euphoria. "~Mitzi Beliveau
Kicking off SummerFest this year is hoot tapping sounds of The Elements, a Minneapolis/St. Paul-based classic rock band featuring music from the 1960s to today.  Enjoy classics songs from the Eagles, John Mellencamp, the Beatles, the Byrds, Grassroots, Pure Prairie League, CCR, Bob Seger, Doobie Bros, Van Morrison, Bad Company, Grand Funk, Poco, Big Head Todd, and more.
The fun starts at 5:00 PM rain or shine with lots of grilled food, snacks, soft drinks, beer (craft beer too), and wine.  Bring your lawn chairs and soak up the evening sun and fun or sit in the shade under our super-sized big top tent.  Fun awaits!