Join a Synod Small Group
at your Parish this Fall!
YEAR 3 OF THE SYNOD HAS BEGUN
Year 3 (2021-2022): The Church Engages
Fall 2021: Parish Consultation Process with Small Groups
Small groups meet in every parish to learn, pray, and discuss the Focus Areas.
Parish feedback on the Focus Areas will help determine the Synod Topics.
January/February 2022: Deanery Consultation Process
Pastors and parish representatives gather to learn, pray, and discuss the Focus Areas.
Deanery feedback informs the Parish Consultation Process.
June 2022: Archdiocesan Synod Assembly (Pentecost Weekend)
Approximately 500 appointed delegates (including two from each parish) gather to learn, pray, and discuss the Synod Topics and recommend pastoral priorities to Archbishop Hebda.
After considering the Synod recommendations, Archbishop writes a Pastoral Letter (Nov. – Feast of Christ the King), leading to a Pastoral Plan to move our Archdiocese into the future.
---
Let's talk…
Learn more about joining a small group here.
Contact Samantha Hagel srhagel@stmarys-wbl.org with questions.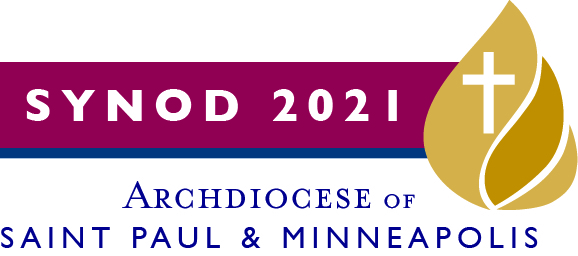 Synod 2021
Join other parishioners at the next session. Choose between the 2:00 or 6:30 PM session and plan for a time of prayer, reflection, and fellowship.
Please consider participating in the Synod sessions. Here is a list of the final 2 sessions:
Note: October 20 is a week off due to MEA
October 27
Topic A: Parents as primary educators (birth to adult)
Topic B: Helping the young encounter Jesus (birth- grade 6)
November 3 
Topic A: Youth ministry (grades 6-12)
Topic B: Young adult ministry (ages 18-35