FUSED High School Ministry
Catholic HEART Work Camp
Summer 2023 Mission Trip Registration Now Open
Catholic HEART Work Camp is a Catholic Mission organization whose aim is to equip young people to serve others while meeting Christ. St. Mary of the Lake is partnering with the Church of St. Michael in Prior Lake on this trip to Knoxville, TN.
2023 Mission Trip Information Sheet – VIEW HERE
View Full Details for Catholic HEART Work Camp
This week-long trip with Catholic HEART helps to fulfill our Christian mission and grow as a youth program. We will reach out to revitalize and beautify the homes of the elderly and of others who cannot afford repairs. We will also work in food distribution centers and interact with children of low-income families at day care centers. Many youth on Catholic HEART trips have powerful experiences of encountering Christ in a new way, as well as growing in deep fellowship with one another.
Who: High Schoolers currently in 9th-12th grade. Incoming 9th graders accepted on a case-by-case basis
When: June 24-July 1, 2023
Where: Knoxville, TN  (St. Mary's will ride coach buses to and from TN with participants and chaperones from St. Michael's in Prior Lake).
Cost: $1,195 per participant*
| | |
| --- | --- |
| Total Individual Cost Breakdown | Cost |
| Catholic Heart Workcamp Spot | $425 |
| Travel Cost | $633.33 |
| Free Day Cost | $128.27 |
| T-Shirt Cost | $8.40 |
| Total | $1,195 per participant |
*We do not want cost to be prohibitive to any youth participant. We are currently working on ways to help offset the cost through support from the parish and fundraising opportunities. If cost is an issue, please contact Coordinator of Young Adult Ministries, Michelle Boris at [email protected]. 
Information Meetings: You are invited to attend one of two information meetings to learn more:
Sunday, January 8 from 10:15-10:45 AM in the Chapel 
Wednesday, January 11 from 5:45-6:15 PM in the Library at the Parish Life Center (you are welcome to stay until the Community Night begins at 6:30 PM).
Register today! Spots are limited!
Due with registration is a $100 deposit. You may pay this online by clicking the link above and finding the "FUSED Mission Trip Deposit" under Other Payments.
Other Payments. Alternatively, you may pay via check made out to St. Mary of the Lake. Please put "Mission Trip Deposit" in the memo. Checks can be mailed to the Parish Office or dropped off at the Parish Life Center during regular hours.
Questions? Contact Michelle Boris: [email protected]
High school youth are a blessing to any parish community and St. Mary's strives to include high school youth in every aspect of parish life.
Fused High School Ministry encompasses all ministries designed to bring high school youth closer to the love of God, bind them in a better relationship with Jesus and create a community among the youth. Be inspired by the latest Christian music, mission trips, and other exciting programs.
Discover more about yourself in a Small Group. Gather with friends old friends and make new ones in a comfortable place you choose and discuss your faith. What does it mean to grow in faith? How do I do that? What do we believe? Why do we believe it? Who is Jesus? Who or what is God? Discover answers to these questions together by reflecting on the Scriptures.
Have fun with your friends and meet new ones while helping those in need. Experience the rewards of supporting your community. Service Projects at St. Mary's are varied and throughout the year. Serve at the Dorothy Day Center, visit residents at the Cerenity Car Center, serve at Feed My Starving Children, or be a small group leader for Summer BLAST.
Retreats and Social Events happen throughout the year – Concerts, Retreats, Ski Trips and more!
For events that are for both middle and high school youth, view here.
---
Upcoming Events & Service Opportunities
---
2023 Graduates' Mass
FUSED offers various opportunities for teens to serve their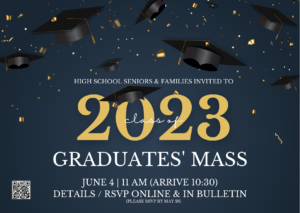 community. Check out our upcoming opportunities.
High school graduation is fast approaching, and St. Mary of the Lake would like to join you in celebrating our graduating seniors and their accomplishments. All seniors are invited to participate in our Graduates' Mass on Sunday, June 4 during the 11:00 AM Mass. Graduates will process in, receive a special blessing and gift, and have the opportunity to take photos at the end of Mass.
Click the button below if your graduating student would like to be recognized and receive a blessing.
They should arrive and check-in in the Notre Dame Chapel by 10:30 AM. They are encouraged to wear their caps and gowns for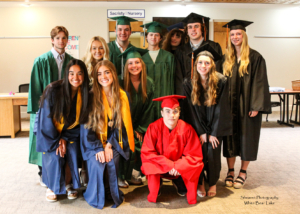 Mass. Further details, including opportunities to be involved in the Mass, will be emailed to those who RSVP the week before.
We would also like to honor all graduating seniors by including their names and potentially school/future plans (if space permits) in the parish bulletin for the weekend of June 4.
This will help ensure we have enough gifts and that we can stay in touch with our seniors as they transition into young adult ministry.
Please note that while you are still welcome to attend the Mass, we cannot guarantee that information will be printed in the bulletin if received it after May 26.
Stay Connected!
Questions about high school youth ministry? Please contact Coordinator of Young Adult Ministries, Michelle Boris at [email protected] or (651) 429-7771, Option 1.
Stay up-to-date and never miss a FUSED event by joining us on Flocknote. Choose text or email reminders or both!
---

Follow us on Instagram @stmaryswblfused

---
Sacramental Preparation
Preparation for the Sacraments is separate from our four Faith Formation programs. Learn more about the Sacraments Here.